2017: The Year in Charts
These are the charts and themes that tell the story of 2017…
I. The Year Volatility Died
There's an old saying that goes something like this: "the market has a tendency to move in a fashion that inflicts the most pain on the most participants."
After the election in November 2016, the most prominent market prediction was for higher volatility in markets…
After a quiet start to 2017, the call remained in force…
And so naturally, the market did what it does best: inflict the most pain on the most participants.
The S&P 500 would sport an annualized volatility of 3.9% in 2017, the lowest on record (monthly data going back to 1928). Not to be outdone, the bond market's volatility of 1.5% was also the lowest on record (monthly data for the Bloomberg Barclays Aggregate going back to 1976).
What about intraday volatility? You guessed it: the lowest on record, with 95% of trading days in the Dow showing a range (high to low) of less than 1%.
From August 18th to November 29th, the Dow would go 72 straight trading days without an intraday move greater than 1%, by far the longest stretch in history.
II. Records Are Made to Be Broken
Low volatility records were not the only one's broken in 2017…
We saw the first perfect 12-0 year, with the S&P 500 up every single month.
The S&P has now risen for 14 consecutive months, the longest run in history.
This record advance came without any meaningful pullbacks, as the S&P 500 has been within 3% of an all-time high for a record 289 trading days and counting.
The Dow would close at an all-time high 71 times during the year, the most in history.
III. The World is Flattening
While stocks were hitting all-time highs, the bond market was ever-so-slowly moving towards normalization. With the Federal Reserve hiking rates 3 more times (75 bps in total) during 2017, short-term yields were on the rise, and 1-month through 3-year yields hit their highest levels since 2008.
At the same time, longer-term yields (10-year and 30-year) actually fell during 2017.
The result: a sharp flattening in the yield curve throughout the year. At 0.51%, the spread between 10-year and 2-year yields on the last day of trading was the flattest level of the expansion.
IV. Still Easy After All These Years
The flattening yield curve was a conundrum of sorts for market participants, who were hearing daily reports of better economic data and an explosion in growth to come.
Indeed, during 2017, we saw a number of economic data points hit their best levels in years…
Unemployment Rate (4.1%): Lowest since 2000.
Jobless Claims: Lowest since 1973.
Consumer Confidence: Highest since 2004.
ISM Manufacturing Index: Highest since 2004.
Non-Farm Payrolls: Up 86 consecutive months, the longest streak in history.
In spite of this backdrop, the Fed only hiked rates 3 times in 2017, to a year-end range of 1.25 to 1.50%. After subtracting inflation (core CPI of 1.7%), this leaves the real Effective Fed Funds Rate in negative territory for the 9th year in a row.
This is by far the longest period of easy money in history. The previous longest streak of easy money ended in December 2004 at 39 months with a negative real Fed Funds rate. That policy was widely considered one of the primary causes of the housing bubble. Entering 2018, we are 115 months and counting.
It should come as no surprise, then, to see U.S. housing prices once again surging higher, outpacing gains in income (and reported inflation) over the past five years by a wide margin.
It should also come as no surprise to see U.S. equity valuations (CAPE ratio, Shiller P/E) end the year in the 97th percentile, above all periods with the exception of September 1929, June 1997 through February 2001, and May through June 2001.
Data Source: Robert J. Shiller, 1860-2017
This asset price inflation was precisely what the Fed was hoping for in maintaining extremely easy monetary policies far longer than necessary. According to their "wealth effect" hypothesis, such inflation was going to lead to higher consumer spending and lending, and higher economic growth. With the slowest growth expansion in history (2.3% real GDP), the growth portion of their theory remains to be seen, but there is no denying the ongoing boom in asset prices.
The Fed is not alone in this pursuit, as evidenced by every developed country central bank in the world maintaining negative real interest rates in the 8th year of a global expansion.
V. A Good Old-Fashioned Mania
This is a good segue into one of the unexpected byproducts of easy money and currency debasement: the inexorable rise of cryptocurrencies.
2017 will forever be known as the year Bitcoin went mainstream, with a mania that rivals all others…
Bitcoin entered the year below $1,000 and by December 7, it had crossed above $19,000.
At its peak on December 7, Bitcoin's market cap was higher than 98% of the companies in the S&P 500, including Bank of America, Wal-Mart, Visa, AT&T, Citigroup, and Coca-Cola.
Bitcoin would end the year above $13,000, up over 1,300%. At the end of 2010, it was at 30 cents.
The top 20 cryptocurrencies ended 2017 with a combined market value of $494.9 billion, a 2,891% increase from the $17.1 billion combined value on January 1.
At the start of 2017, Bitcoin was the only cryptocurrency worth more than $1 billion. At the start of 2018, there are 35.
VI. King Dollar Dethroned
While cyptocurrencies were soaring higher, the U.S. Dollar Index was moving sharply lower. With a decline of over 10%, this was the worst year for the index since 2003.
Every major currency in the world finished the year higher against the dollar.
As the dollar fell, most commodities moved higher. After 5 straight years of losses (from 2011 – 2015), the Bloomberg Commodity Index finished up for the 2nd straight year.
Crude Oil ended the year above $60, its highest level since mid-2015. From its low of $26 in February 2016, it is up over 130%. The crash in Crude from 2014-2016 allowed central banks to pursue extreme monetary policies (negative interest rates) under the guise of deflation. Now that Crude is on the rise again, one wonders if we will begin to see a reversal of such policies in 2018, most notably from the ECB.
In another sign of global reflation, Copper would gain over 30% during 2017, ending the year at its highest level since 2014.
Lumber prices would rise 40% during the year, hitting a 21-year high, reflecting a surge in activity in the housing market (U.S. new home sales at highest levels since 2007).
The weaker dollar would prove to be an additional boon for international equity investments. Every major country ETF in the world ended positive in 2017 with an average return of 29%.
VII. Wrapping Up: 1991-99 Redux?
We closed out 2017 with the 9th consecutive positive year for the S&P 500, tying the record run from 1991-99.
The S&P has now been positive in 14 out of the last 15 years, a fact that would probably surprise a lot of people.
9 out of 10 sector ETFs finished positive with Technology (+34%) leading the charge. 9 out 10 sectors also hit all-time highs during the year, with only Energy failing to do so.
Meanwhile, the U.S. economic expansion is now the 3rd longest in history (at 102 months). If growth continues through the middle of 2018, it will be the 2nd longest expansion, trailing only the 10-year run from 1991-2001.
All of this good news was not lost on investors, with certain sentiment measures showing the most bullish outlook in the past 30 years. The wall of worry that persisted for much of the past 9 years has finally been torn down.
Will the S&P 500 break the 1991-99 record and go up for 10 straight years?
Will the U.S. expansion break the 1991-01 record and go on for 11 years?
Most investors today would probably answer yes to both questions, and while they may be proven wrong (the bull market/expansion could end at any time), they could also be proven right. Just because something hasn't happened before (10 straight up years, 11-year expansion) doesn't mean it can't happen in the future. We learned this lesson many times in 2017, as there is no impossible in markets.
If you don't believe that take a look at the following chart showing Greek bond yields now trading below U.S. yields. Who could have or would have predicted that a few years back?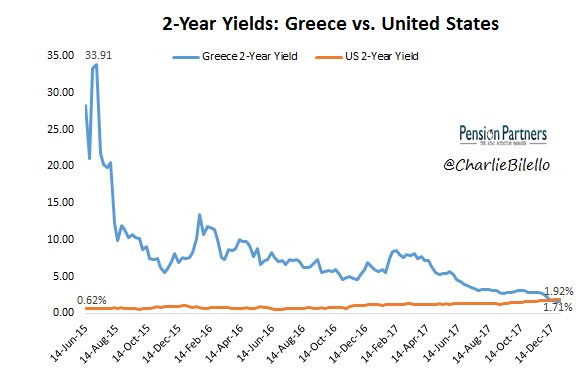 VIII. Happy New Year
These were the charts and themes that told the story of 2017. As always, the narratives followed price.
As prices change in 2018, the narratives will change as well.
Where will the S&P 500 end 2018? Where is Crude headed? Is Gold a good investment here? How many times will the Fed hike rates?
I don't know the answer to any of these questions. As Lao Tzu said, "those who have knowledge don't predict. Those who do predict don't have knowledge."
What's the alternative? Weigh the evidence as it comes, invest based on probabilities, be forever humble and thankful, and leave the predictions to those whose job it is to entertain. That's the best you can do in this business.
In 2018, I predict one thing and one thing only: you will see many more surprises. That is the nature of markets.
Thank you for your readership this year. I hope in some small way you found the information in this blog useful to your journey as an investor.
I wish you all a happy, healthy, prosperous and fulfilling 2018.
***
To sign up for our free newsletter, click here.
To follow these charts and themes on a more frequent basis in 2017, you can follow my feeds on twitter and stocktwits.
Related Posts:
This writing is for informational purposes only and does not constitute an offer to sell, a solicitation to buy, or a recommendation regarding any securities transaction, or as an offer to provide advisory or other services by Pension Partners, LLC in any jurisdiction in which such offer, solicitation, purchase or sale would be unlawful under the securities laws of such jurisdiction. The information contained in this writing should not be construed as financial or investment advice on any subject matter. Pension Partners, LLC expressly disclaims all liability in respect to actions taken based on any or all of the information on this writing.
CHARLIE BILELLO, CMT
Charlie Bilello is the Director of Research at Pension Partners, LLC, an investment advisor that manages mutual funds and separate accounts. He is the co-author of four award-winning research papers on market anomalies and investing. Mr. Bilello is responsible for strategy development, investment research and communicating the firm's investment themes and portfolio positioning to clients. Prior to joining Pension Partners, he was the Managing Member of Momentum Global Advisors and previously held positions as a Credit, Equity and Hedge Fund Analyst at billion dollar alternative investment firms.
Mr. Bilello holds a J.D. and M.B.A. in Finance and Accounting from Fordham University and a B.A. in Economics from Binghamton University. Charlie holds a J.D. and M.B.A. in Finance and Accounting from Fordham University and a B.A. in Economics from Binghamton University. He is a Chartered Market Technician (CMT) and also holds the Certified Public Accountant (CPA) certificate.
In 2017, Charlie was named the StockTwits Person of the Year. He is a frequent contributor to Yahoo Finance and has been interviewed on CNBC, Bloomberg, and Fox Business.
You can follow Charlie on twitter here.
Comments are closed.